This past weekend, I spoke at the annual
NSCA Personal Trainer's Conference
. Not only did I have a blast of a good time, it was such sweet revenge. In contrast to several years ago when clinching a speaking spot at a national conference was a long shot requiring a ton of pavement pounding & red tape, I was now
invited
to speak at a conference held by the industry's top organization. *Here's a photo montage made possible by my dear wife, who wanted to capture every dirty detail of this trip.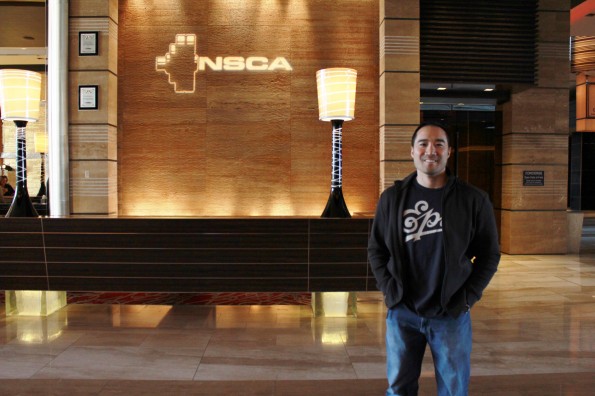 Pictured above:
We just arrived and took the*first shot of the M Resort's lobby. Notice how cool it is that the NSCA logo is blasted up on the back wall of the concierge desk. If you're reading the twinkle in my eye correctly, it says, "I'm gonna spank this mutha."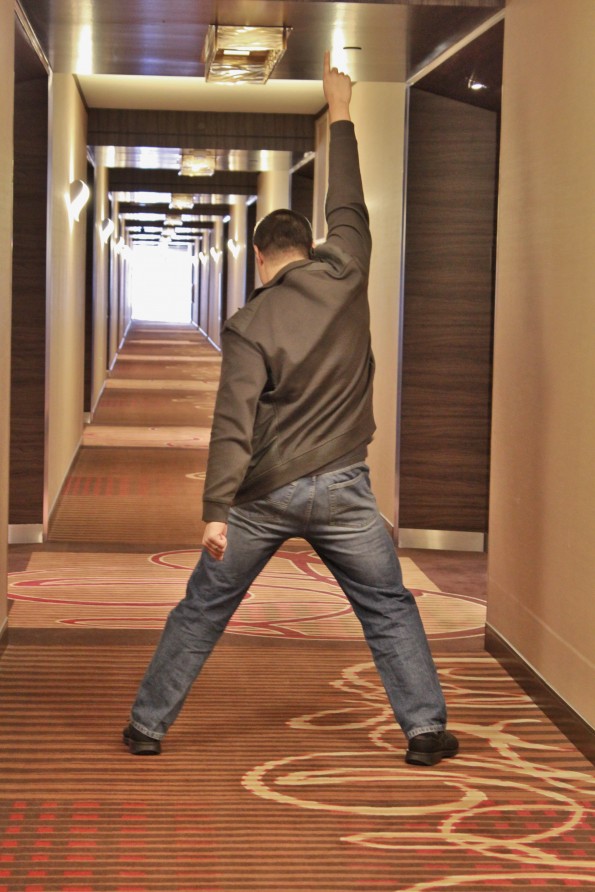 Pictured above:
*My state of mind upon arriving was well-captured in this shot.
Pictured above:
*After traveling & unpacking, it was time to unwind a bit. There was a great draft bar that served a wide range of delicious microbrews chilled to 32 degrees. That's a Young's Chocolate Stout in my hand, and in front, a Pyramid Apricot for my wife.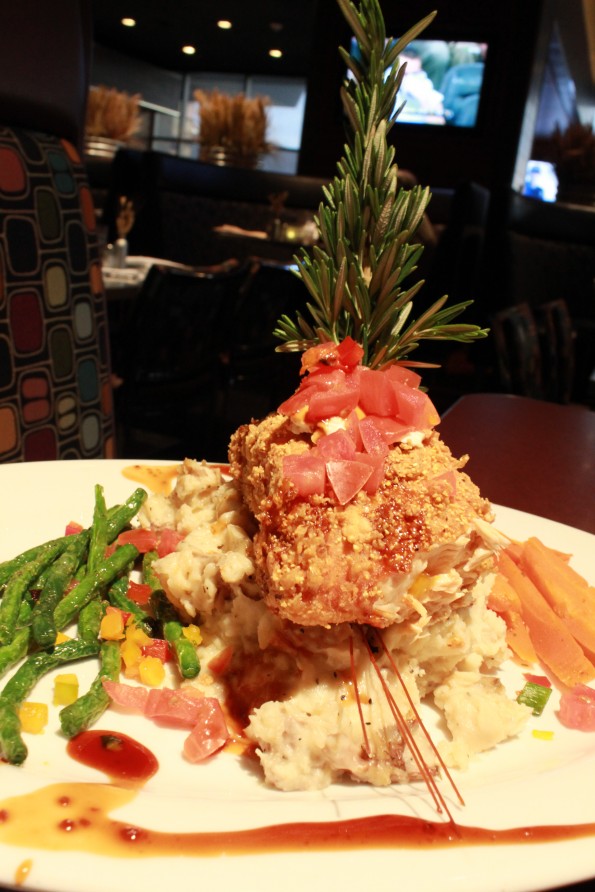 Pictured above:
*What better way is there*to follow up gourmet beer than with some hearty grub. Mushroom & Swiss burger for my wife, & I chose the crispy-crusted salmon on mashed 'taters (for the haters).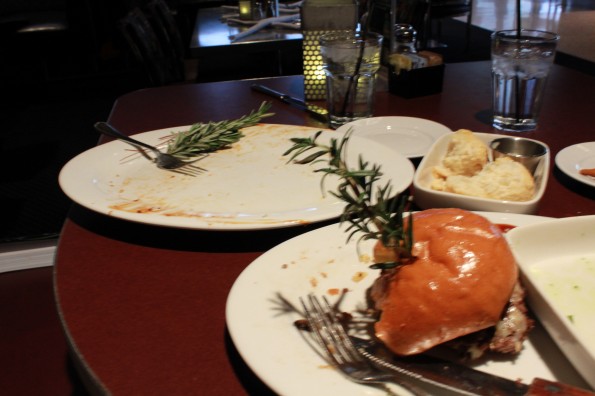 Pictured above:
*Guess who's the bigger pig between my wife & I.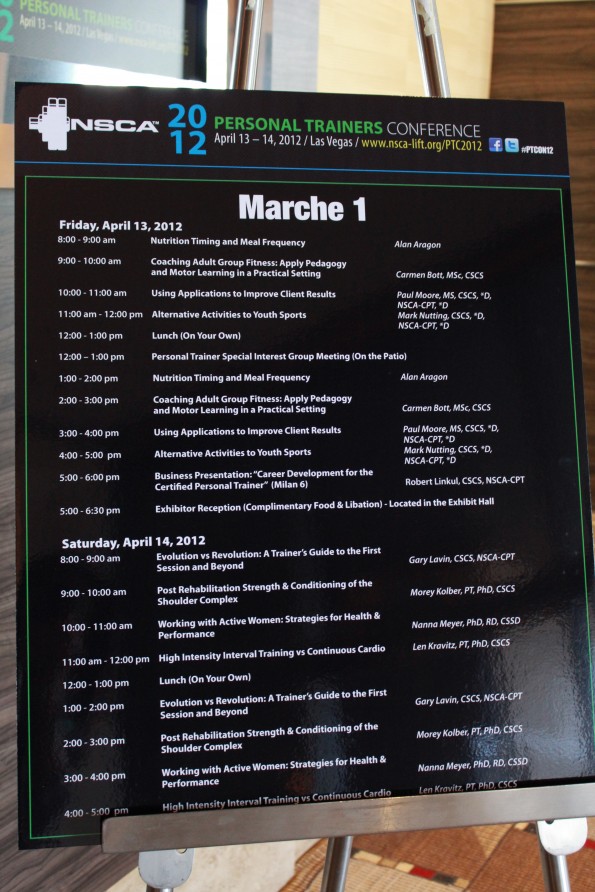 Pictured above:
*GAME ON!!! *The*time finally arrived for me to present. I did the same lecture twice that day, once at 8am and again at 1pm. Check out all those letters after my name.
img class="aligncenter size-full wp-image-3095″ title="IMG_2495″ src="
http://www.alanaragonblog.com/wp-con...718.jpg"
alt="" width="595″ height="396″ />
Pictured above:
*
Brad Schoenfeld
, one of the most knowledgable & accomplished guys in the business, graciously introduced me to the audience. Brad (along with
Anoop Balachandran
) played an instrumental part in me speaking at the event.
The way I met Brad is an interesting story. On a whim, I emailed him and asked if I would take a look at his peer-reviewed article titled, "
Does Cardio After an Overnight Fast Maximize Fat Loss?
" He gladly sent it over & gave me permission to dissect it in my
research review
*- and I combed through it with obsessive -compulsive rigor. I felt that it was a very well-done article overall, but I also discussed aspects I felt needed more support. Instead of letting my points of contention bruise his ego, Brad actually appreciated the critique, and even thanked me for doing it. He told me that science can only move forward when we hold each other accountable for the accuracy of our material, and that challenging your peers is critical for the advancement of scientific knowledge.
I was so used to dealing with fragile egos, especially among the*top guys in the fitness field, that hearing this from Brad literally dropped my jaw to the table. I was impressed at his attitude (to say the least), and was honored to meet & spend time with him at the conference.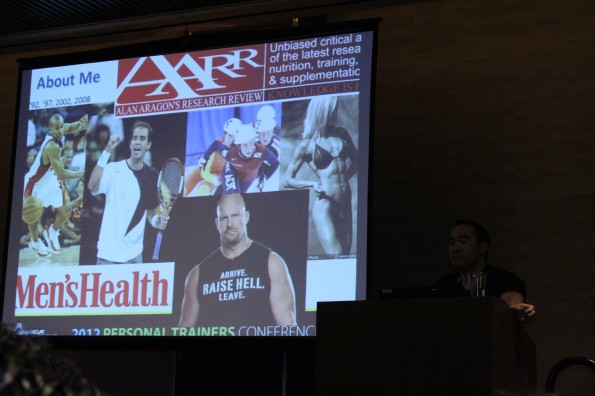 Pictured above:
* I*wasn't going to merely assume that the audience knew*that I'm the Ron Burgundy of nutrition, so I shared*some of my background & clientele with them at the beginning of my lecture.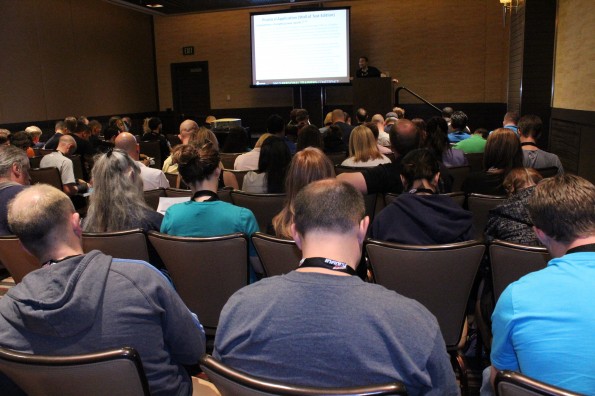 Pictured above:
* Here's a shot of the audience, both time slots I did had a packed room. The energy was off the charts, and the vibe in the room was brotacular.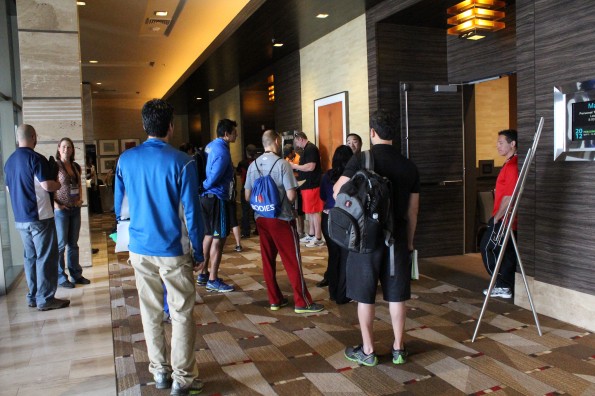 Pictured above:
* Speakers were sheduled tightly back-to-back, so a good part of the Q & A was held outside the lecture halls. It was such a rush to see the audience react so potivitely to my presentation.
img class="aligncenter size-full wp-image-3109″ title="IMG_2584″ src="
http://www.alanaragonblog.com/wp-con...711.jpg"
alt="" width="595″ height="892″ />
Pictured above:
* One of my favorite pastimes – eyeballing the menu. This was taken between the morning & afternoon lectures, right before seeing
Marie Spano
discuss weight loss strategies. I was extremely pleased to see her discuss research comparing various diets & illustrating the fact that yes – calories DO matter.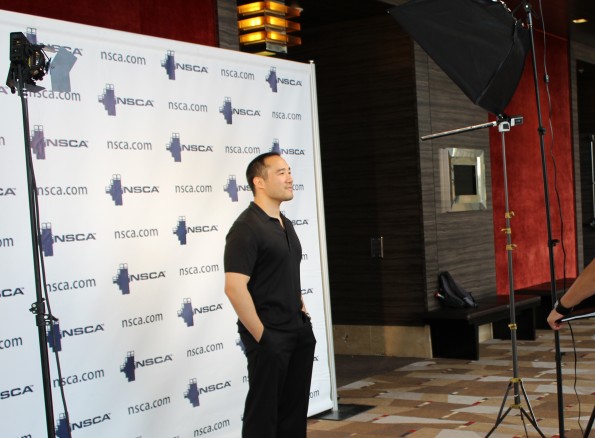 Pictured above:
* After my 2nd lecture, I was asked to do an interview*with Greg Nockleby, the NSCA's marketing & PR manager. I*advocated excessive intakes of grains, dairy, and sugar*in the little time I*was given*in the advertising media (just kidding

).
img class="aligncenter size-full wp-image-3117″ title="IMG_2659″ src="
http://www.alanaragonblog.com/wp-con...846.jpg"
alt="" width="595″ height="396″ />
Pictured above:
* I had the privelege of having a buffet melee with* trainer/researcher extraordinaires
Brad Schoenfeld
and
Bret Contreras
. I've been friends with Bret for a while now, so I was almost 100% ready when the topic turned to maximizing male performance in & out of the gym. In all seriousness though, we*had some*amazing discussions*about training & nutrition research. Bret is such a sharp guy, and his*sense of humor is off the charts. We got so wrapped up in conversation, they had to let us know the place closed an hour & a half before they*kindly asked us to get the heck out. Bret & Brad are truly good guys, and I'm looking forward to their continued friendship.
Pictured above: The Aragon/Schoenfeld epic bro-fist. Brad's presentation, titled "Facts & Fallacies of Fitness," was chock-full of*research & concepts*that wowed & engaged the audience. Overall, the conference provided plenty of fun & learning. I got a lot of useful information from each session I attended, all of which were taught by high-caliber professionals in the field. There were many sessions to choose from (both lecture & hands-on), and it's always tough knowing you can't see them all.
The people running the*conference are top-notch, and they deserve a ton of thanks & credit for getting me involved with the NSCA. Special thanks to Peter Melanson (the NSCA's Education Manager) for putting up with the multiple drafts of my powerpoint presentation that I sent him each time I found an insignificant typo.
I hope to see more of you from
Internet Land
in attendance at next year's event. In the meantime, I'm*stoked*about seeing the new & the regular attendees of the
Fitness Summit
next month.

More...